Google has finally unveiled its next-generation of the Android operating system, the Android P. And just like previous dessert-themed naming convention from Google, the P here stands for Pie.
This year, Google made a lot of announcements that made it fans happy one of which is the official release of Android 9.0 Pie. It is yet to roll out to phones worldwide but the Google Pixel phones run it already.
Whether or not you have updated your Android version yet, there are tons of new features you will see when you run Android 9.
Features Of Android P (Pie) V.9.0
Adaptive Battery & Adaptive Brightness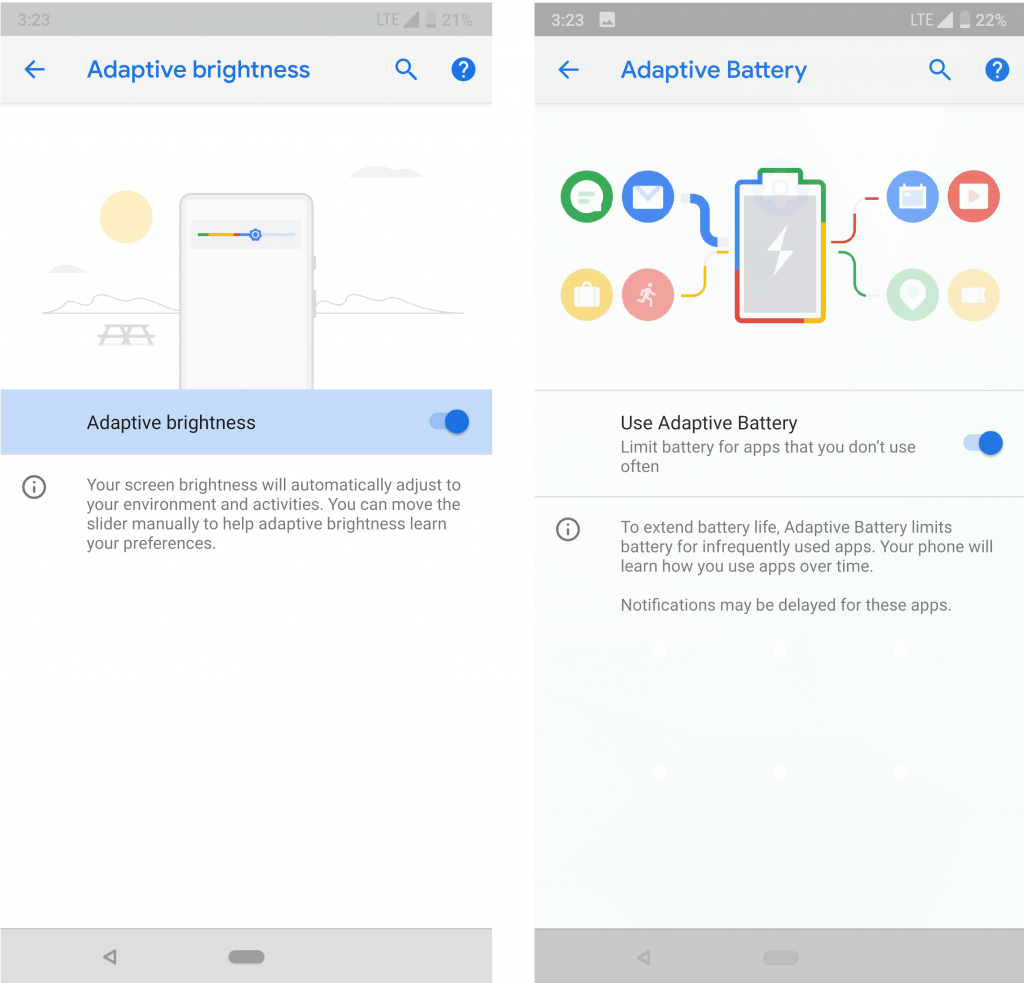 If you used the Doze feature in Android 6 which hibernates all apps not being at that moment, the adaptive battery feature is an improvement of that and it is enabled by default.
Android's automatic brightness is now smarter as you can now train it to know your preferred brightness level when using certain apps and in different environments.
This setting is accessible from the Quick Settings drop-down menu.
Dark Mode
You can manually choose to go dark on your Android device by heading to Settings > System > Display > Advanced > Device theme and choosing "Dark".
App Actions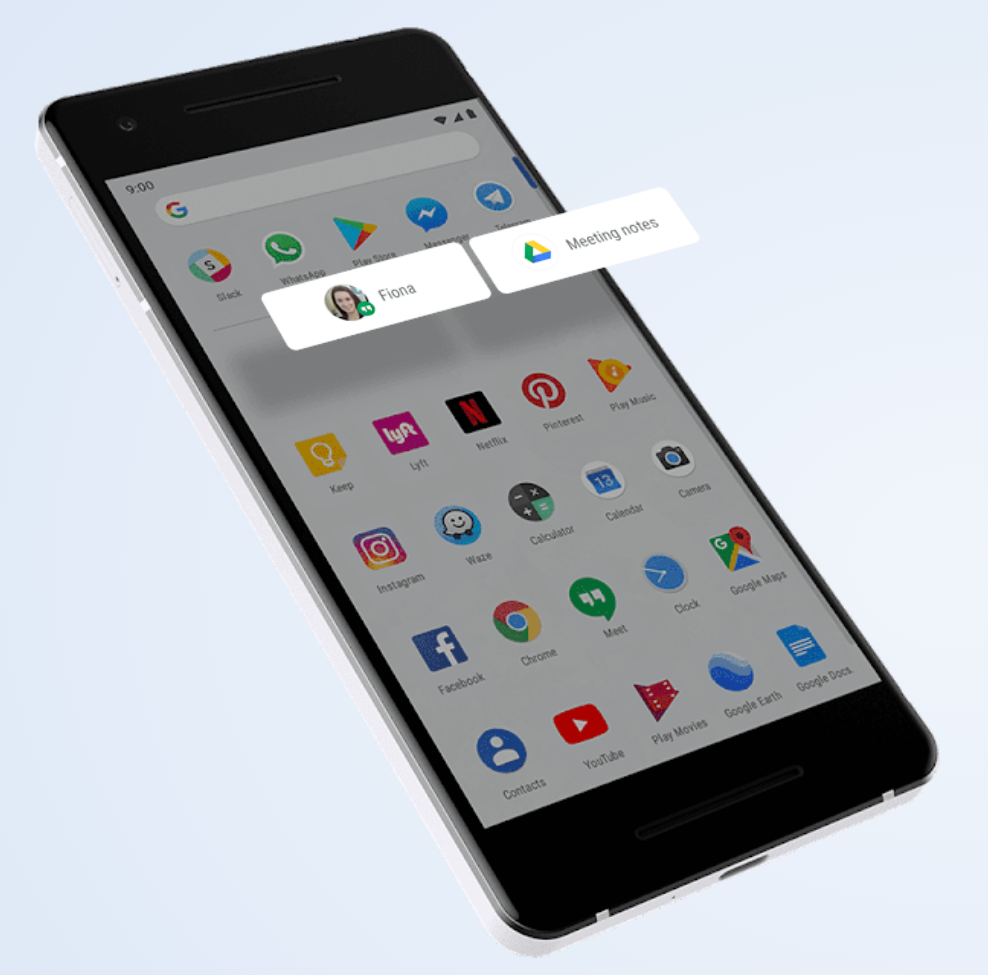 This is similar to the app shortcuts that you can summon by long pressing on icons but quite different given the fact that it is Google launcher giving you suggestions of things to do with your phone.
For example, your phone will suggest your most recent playlist when you connect earphones to it. Or suggest that you call Any Contact to check on her during the week.
App Timer
Set a time limit on applications and after you have used them for the specified period Android will automatically grey out the app's icon – hinting that you should spend your time doing something other than using the app.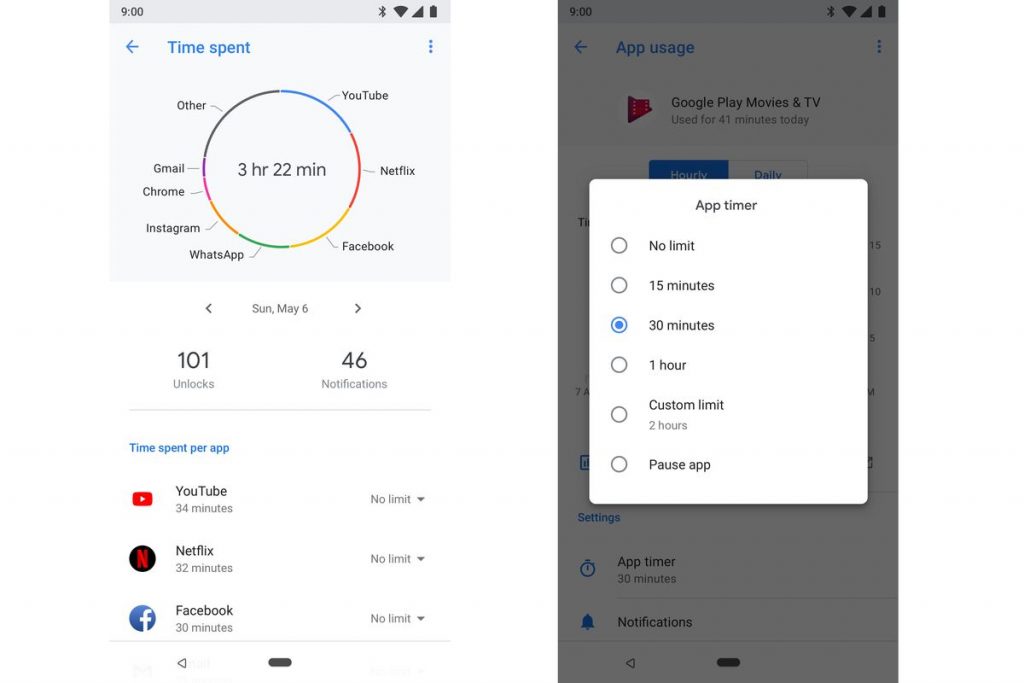 The usage duration that you set is up to you
Slices
The Slices feature enables you to see informative data when you search for apps using the Google Search app. What's good about this feature is you can skip right to performing the listed actions displayed in the informative dialogue.
Accessibility Menu
From your Settings > Accessibility > Accessibility Menu >, Use service, you can activate the new accessibility menu which enables an icon you can tap for actions like quick settings, recent apps, and volume.
Impressive Text Selection
Selecting to interact with text has been made easier thanks to the improved, more responsive handlebars in selection mode.
Google Maps indoors
Google Maps is the most loved and most used navigation app, but to date, it has largely only worked for driving or walking outside — not for large indoor places like malls. That, however, is about to change. A new feature in Android 9.0 Pie includes added support for "Wi-Fi Round Trip Time," or RTT, which allows for more specific positioning through Wi-Fi. Indoor positioning, in places like malls, is about to get a whole lot more precise.
Prevent Accidental Screen Rotations
While Android currently offers a screen orientation lock option, it can be a bit annoying to use when you're switching between apps. Android 9.0 Pie offers a whole new way to prevent accidental screen rotations. You can also pin a screen to a specific orientation through the navigation bar. If you want to switch the orientation, you simply need to tap the icon to let your phone do its thing.
If you're the sort of person who leaves their screen rotation off as a system setting, there's also an option just for you. If you're using an app with a landscape orientation and you shift your phone around, an option will appear on your nav bar to rotate the screen, without altering your system settings. This tells your phone you're happy to do it this once, but you don't want your orientation lock turned off.
Improved DND Mode
Do Not Disturb now prevents visual interruptions like background notifications and frequent pop-ups and you can take advantage of the Shush mode which silences your phone's notifications completely.
All you need to do is place your phone on any surface face down and DND will be automatically enabled.
Lockdown Mode
A new option that you can toggle from the Power menu, Lockdown Mode disables the fingerprint unlock on your device and you will need to enter a pin to unlock your device.
Maybe you will use this if an unruly party is trying to force you to unlock your device – you decide.
Attractive Media Panel
Since the volume controls are dedicated to Ringer volume, Android's media setting now has its volume control in a vertically aligned slider on the right side of the screen and this same media panel displays different volume controls settings for all the devices connected to your Android phone.
Wi-Fi MAC Randomization
The Wi-Fi MAC Randomization features works by randomly assigning a new MAC address to your device each time it connects to a new Wi-Fi network. This is one of the many improvements that come to Android's privacy and security capabilities in version 9.
There are many other features that come in Android Pie including :
The calendar events and weather information are displayed on the lock screen
See the apps that send you the most notifications from Settings > Apps & notifications > Notifications
The volume buttons adjust only the media volume
Connect with up to 5 Bluetooth devices at once
Sharper emoji characters
An improved text magnifier
Notch support
No camera and mic access to background apps