As We Earlier talked About Android 7.0 Nougat.Don't You Read? Then Click Here And Watch It Out Now And Then Go One Step Forward Get Some Knowledge About Android 8.0 Oreo.
Google has launched its newest update for Android OS 8.0 called Oreo. Mobile world is curious to know all about how this version will change the way we operate and interact with our Android mobile devices. There is still time before Android Oreo hits your smartphone, so we have a plenty of time to learn about its glaring features, enhancements and exciting changes.
The new version Oreo is enriched with abundant improvements including revamped looks, cool features, unforeseen functionalities and a lot many awe-inspiring tweaks. Android 8.0 is considered as a highest point of innovations from the Google's workshop. It is believed by world developers to be a comprehensive, quite stable version designed for everybody
Android 8.0 Oreo Features
Settings Menu Design
This is perhaps the most prominent change in Android Oreo 8.0. The setting menu is revamped in this version to show text in subtle dark grey against white background. One aspect of setting menu that was visible in Android Nougat – which is side navigation menu – is eliminated in Oreo. Not only that, a great deal of various menus is given a new touch and design. The result is the Settings area that looks more simple, sober and straightforward than before.
Better File Manager
It is admissible that Android's file manager that comes in-built in Android device is not the most brilliant one, but still users find it easy to browse their files without installing an extra app. However, in Oreo 8.0, users can now avail the 'Files' app that is revamped to make exploring even more attractive. Its features are not comparable with other file manager software, but it still does the job (open, view and delete) for Android users.
Battery-Saving With Background Restrictions
Oreo is set to fix battery draining problems. In previous Android versions like Marshmallow and Nougat, OS allowed 'Doze Mode' to economize battery life, but with Oreo Google has shown great improvements on controlling the actions performed by apps in the background.
In Oreo, the developers have ensured the background activities of applications treated As differently and remain idle or within limits to stop draining batter power unnecessarily. As A Example, They can disconnected from 'broadcast' services and can request location updates only on certain intervals.
Fingerprint Swipe Scanner
In Pixel phones, Google allowed users to see the full expansion of notifications by swiping down on the phone's fingerprint scanner.
In Oreo, this fingerprint-swipe feature is enhanced to a whole new level. The functionality of fingerprint gesture will let users control the notifications for their favorite apps.
Once Application is updated to use the feature, Then you will be able to control the priority and visibility of specific app. This highly personalized facility is sure to improve users' overall browsing experience by letting them scroll or flip across the pages by swiping horizontally or vertically.
Turn on Wi-Fi Automatically
This feature is most beneficial to those who leave their premise with Wi-Fi and step into those with no Wi-Fi facility. When you disable your Wi-Fi service in Android Oreo, everything in your phone will stick to its normal behavior. Your battery will not exhausted because your phone OS will refrain from scanning for access points all day. The moment you reach home, Oreo does the smartest thing and tracks your location and connects you to your home's Wi-Fi hotspot automatically.
You can enable the option 'Turn on Wi-Fi automatically from Wi-Fi preferences of Wi-Fi setting.
Battery Menu
In Android Oreo even the Battery menu got refreshed and is treated with handy makeover. The change is not cosmetic, But In order to provide quick access, commonly used options such as 'Adaptive brightness' and 'Battery saver' mode are positioned close to the top menu. Users can even read the battery usage effortlessly. What sets the new Battery menu apart from just a visual refresh is the set of statistics at the bottom of the menu, informing you about precise battery usage for network scanning and existing display setting.
Rescue Party
Android 8.0 fights unbidden bugs in your device. When a lethal bug from any software enters your device, its system is likely to crash and malfunction. With Oreo, the operating system will initiate an attempt automatically to resolve the issue And It applies much needed fixes when an app keeps crashing and your phone constantly reboots. Hopefully, it will end the bootloops phenomenon in your Android phone.
Hi-Fi Bluetooth Codecs
So far, Bluetooth had been through a lot of criticism saying that it offers lower audio quality in comparison with wired headphones. Google has gone a little far and gave us a handful of high-quality Bluetooth codecs with Android Oreo. Thus, This will significantly improve overall audio quality especially with compatible devices.
Wider Color Gamut in Apps
IN order to perform high-resolution photo editing, it is important to make sure the high-quality images on screen are as better as final images. The problem with Android apps is that they do not support a wide gamut of colors. Android Oreo will come to fix the issue and allow apps to enhance their capability to use wide range of color profiles like AdobeRGB. This means you will enjoy the same picture quality on device displays as the one your experience in your favorite photo editor app.
Smart Text Selection
Text selection menu in Android Oreo is not much smarter and far intelligent than earlier versions. So You will now see intelligent actions taking place based on the type of text you have selected. When you select a URL, Oreo will suggest Chrome. Upon selecting a phone number, it will open the Dialer app. If it is address, Maps and GPS aid will pop up. This is how smart text selection works in Android 8.0
New Attractive Emojis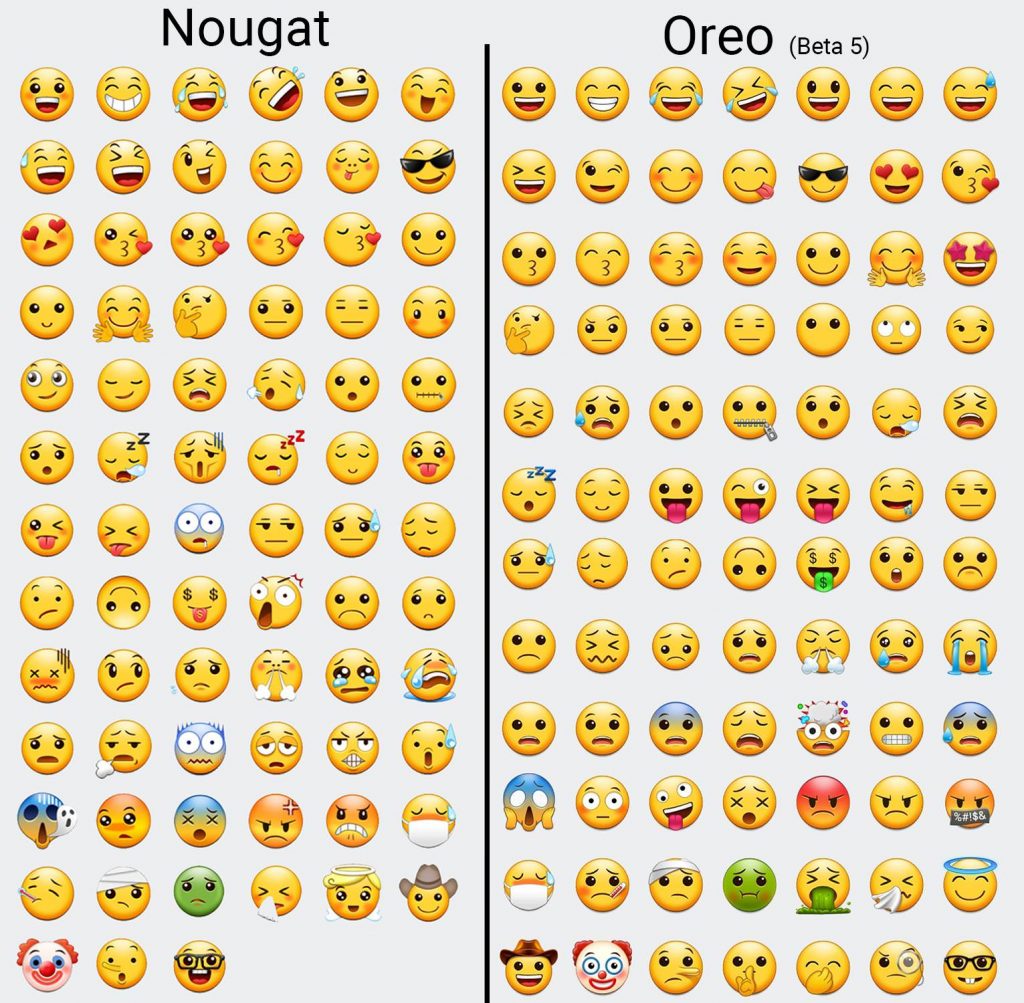 This is the most recent change in Android 8.0. Many changes described above are in first developer preview. With Oreo, you will indulge in more vibrant revamped emojis. And Now Google has kicked out the blob-shaped smileys and preferred more conventional ones. Additionally, most emojis in Oreo follow a gradient now.
Picture-in-Picture mode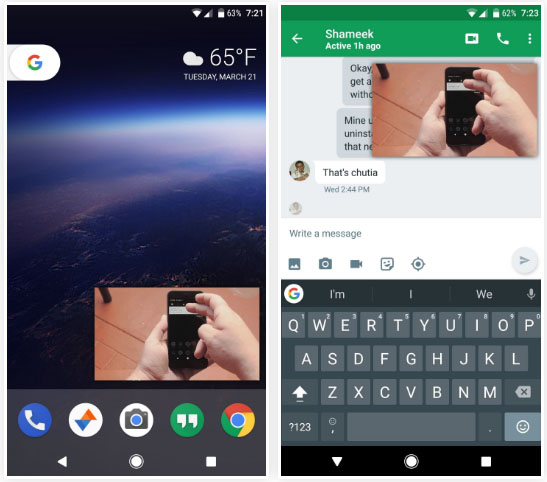 It is amazing to be able to watch video on your phone or tablet. But to give you more power, Android Oreo enables you to watch videos while performing other activity. With Picture-in-picture mode, Android 8.0 users can access the floating video player and can shrink to a window size when they wish to return to home screen and let it play. It works with Youtube, Chrome, VLC, etc. You can even control the video effectively in its shrunken mode. Nexus and Pixel devices will receive these updates prior to other devices.
Conclusion
From learning some of the spectacular Android 8.0 Oreo features, it is clear that Google has prepared us for stimulating surprises by promising the OS version that is most simplified, exquisite and feature-rich. The main areas where Oreo is likely to spread its magic are:
Visual aspects of Android
Greater control in users' hands
Rapid access
Smarter performance
Oreo designed to please its dedicated audience as well as attract more Non-Android users to Android zone. With every new update, Android OS features grow more and more consistent and sophisticated, giving its users an intuitive user experience and mature customization scope. In a way, Oreo 8.0 is the version every Android user has been waiting for.